CLASSIC GREECE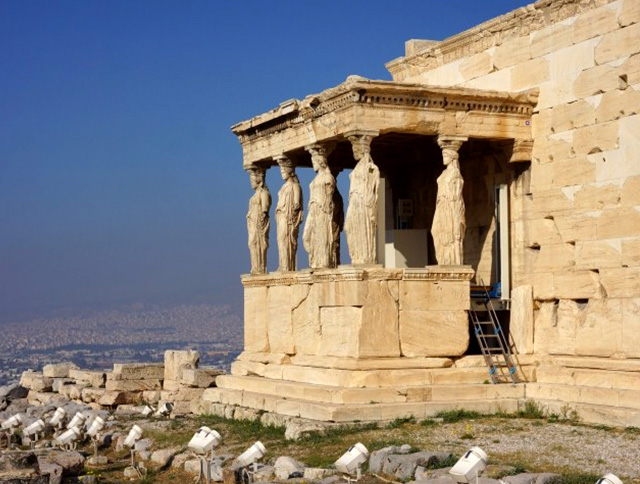 Day 1, Athens
On arrival into Athens you will be met and transferred to hotel. Free time to explore and enjoy Athens.
Day 2, tour Athens
Your morning tour begins with a panoramic drive around Syntagma Square, passing by the National Gardens, Hadrian`s Arch, St Paul`s Church, Parliament, Tomb of the Unknown Soldier, Schliemann`s House, the Catholic Cathedral, Academy, University, National Library, and Russian Orthodox Church. Continue onto the Panathinaiko Stadium where the first Olympic Games took place in 1896. Pass by the Prime Minister`s residence, Ex Royal Palace and Zappion Hall. Proceed, passing the Roman Temple of Olympian Zeus. Continue to the archaeological site of the Acropolis, an UNESCO world heritage monument and visit Propylae, Temple of Athena Nike, Erechtheion with its porch of Maidens and of course the Parthenon.
Day 3, Saronic Islands
Leave Athens at 8:15 a.m. by bus to Paleon Phaleron, Trocadero Harbour. Sail for the island of Aegina (optional visit to the famous Temple of Athena Aphaia). Cruise through the straits to Poros (visit). Lunch on board. Then onto Hydra for time to shop or swim. Sail back to Trocadero Harbour and transfer by bus to Athens.
Day 4, to Nauplion
Depart Athens on your Classic Tour. Travel to Nauplion (first capital of modern Greece), crossing the Corinth Canal, visit Epidaurus Amphitheatre, one of the most beautiful archaeological sites in all of Greece and where the tragedies of Aeschylus, Sophocles and Euripides were performed.
Day 5, to Olympia
Depart Nauplion and travel to Olympia. Enroute visit Mycenae, kingdom of King Agamemnon.
Day 6, to Delphi
Visit Olympia's archaeological sites including the Sanctuary of Zeus, Olympic Stadium and the Museum Continue to Delphi via Patras to Rion to re-cross the Corinth Gulf before arriving in Delphi.
Day 7, tour to Arachova
Visit to the to the Delphi museum and the Sanctuary of Apollo. The Archaeological Museum of Delphi exhibits the history of the Delphic sanctuary, site of the most famous ancient Greek oracle. Its rich collections reflect its religious, political and artistic activities from its early years in the eight century BC to its decline in Late Antiquity. Later drive to the picturesque village of Arachova.
Day 8, to Kalambaka
Depart Delphi and visit Thermopylae to recount the heroics of Spartan King Leonidas. Then travel via the picturesque villages of central Greece on the way to Kalambaka.
Day 9, tour to Meteora & Athens
This morning visit Meteora and enjoy the unique and most impressive scenery of the ageless monasteries, containing priceless historical treasures, standing between earth and sky atop huge rocks. In the afternoon depart for Athens.
Day 10, to Australia
Transfer to airport for flight to Australia.
Tags: Greece